A fraudulent email with the subject "A letter of suspension from Microsoft" has been sent to York University email accounts. The email states that the user's account ___@yorku.ca will be disconnected from sending or receiving emails from other users because they have failed to resolve errors in their mail. It urges the user to resolve the said errors by clicking on a malicious link, otherwise their account will be disconnected.
This is a classic attack that has been circulating the internet for some time. Its aim is to trigger an immediate response from a user and make a mistake. Please be aware that your email will NOT be disconnected, and you can safely disregard and delete the email.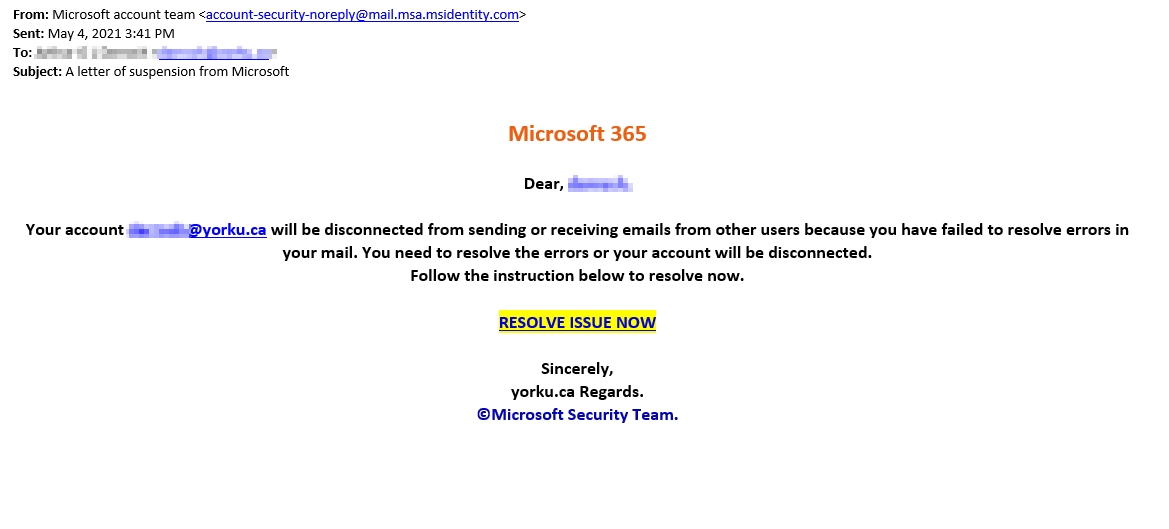 Please contact infosec@yorku.ca if you have any questions regarding this or related scams/phishing.
Report Phishing button:
https://infosec.yorku.ca/services/how-to-report-a-phishing-email-via-the-phish-button/
For general guidance to help protect yourself from phishing and other cyber threats, please see: https://infosec.yorku.ca/cybersecurityawareness/