If you begin the enrollment process but do not complete it, you will be considered as enrolled and will be challenged when logging in to Duo 2-FA protected applications or websites.
UIT recommends registering a smartphone. If you don't have a smartphone, you can request for a Duo hardware token by sending an email to duomfa@yorku.ca. Once two-factor authentication is activated for your account and you have a smartphone, please follow the step-by-step instructions below:
Note: If you have been assigned a Duo hardware token, do steps One, Two and Eight.
Step One: Login to Passport York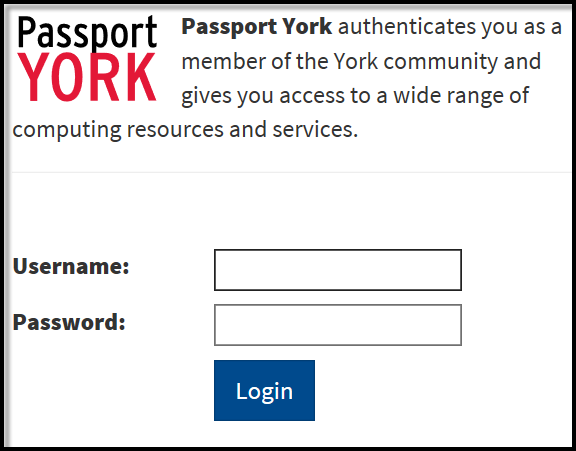 Step Two: Welcome Screen
To go through the enrollment process, please click Setup. Otherwise, click on Setup Later. You have up-to 7 business days to enroll a device before login is permitted.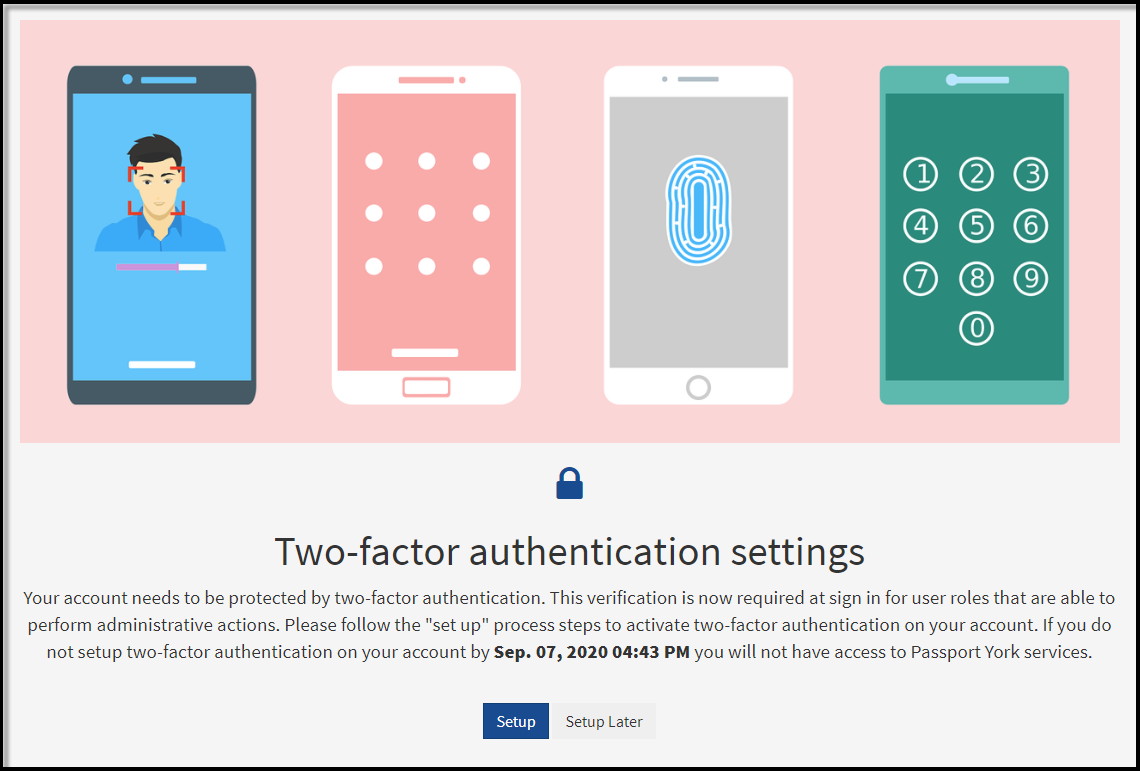 Click Start setup to begin enrolling your device.
Step Three: Choose Your Authentication Device Type
Select the type of device you'd like to enroll and click Continue. We recommend using a smartphone for the best experience.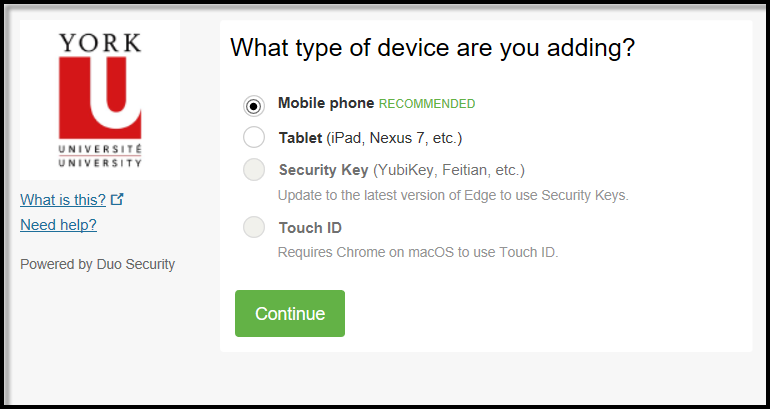 Step Four: Type Your Phone Number
Select Canada from the drop-down list and type your phone number. Use the number of your smartphone that you'll have with you when you're logging in to a Duo-protected service.
Double-check that you entered it correctly, check the box, and click Continue.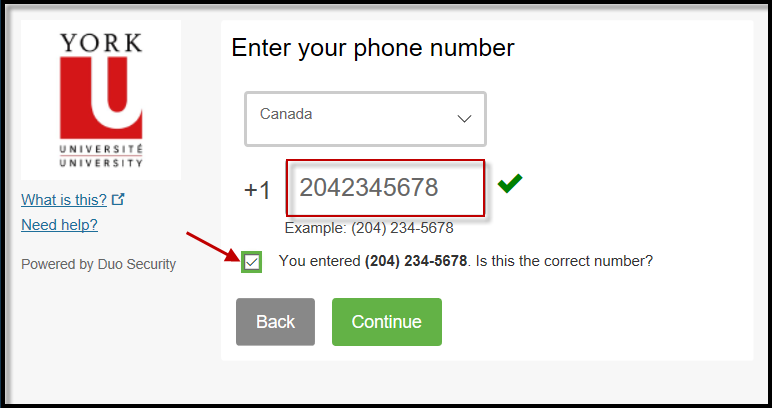 Step Five: Choose Platform
Choose your device's operating system and click Continue.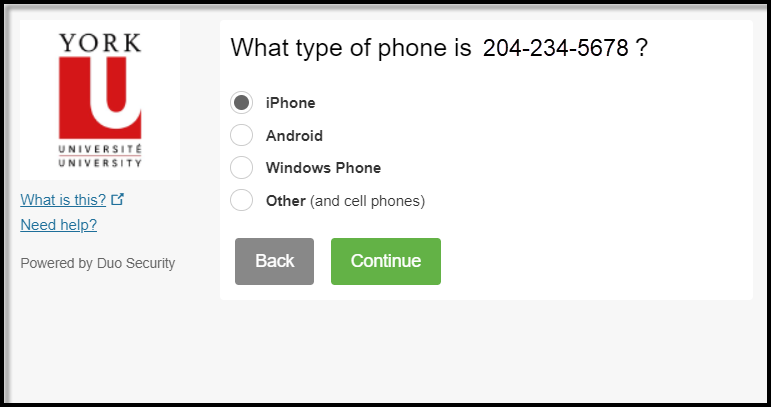 Step Six: Install Duo Mobile
Duo Mobile is an app that runs on your smartphone and helps you authenticate quickly and easily. Without it you'll still be able to log in using a phone call or text message, but for the best experience we recommend that you use Duo Mobile.
Follow the platform-specific instructions on the screen to install Duo Mobile. After installing the app, return to the enrollment window and click I have Duo Mobile installed.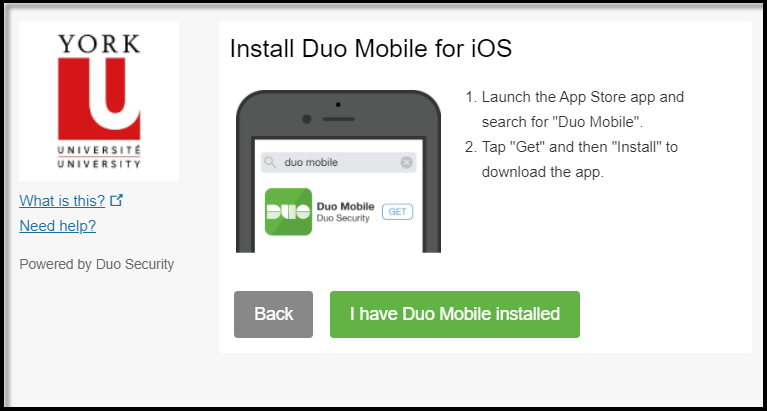 Step Seven: Activate Duo Mobile
Activating the app links it to your account so you can use it for authentication.
On iPhone, Android, and Windows Phone, activate Duo Mobile by scanning the barcode with the app's built-in barcode scanner. Follow the platform specific instructions for your device: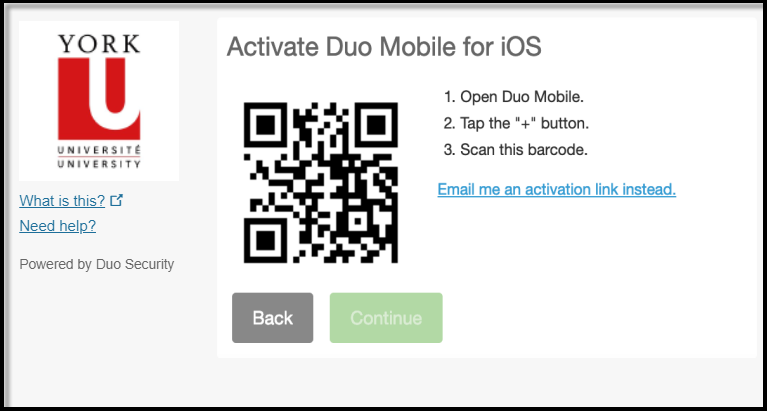 The "Continue" button is clickable after you scan the barcode successfully.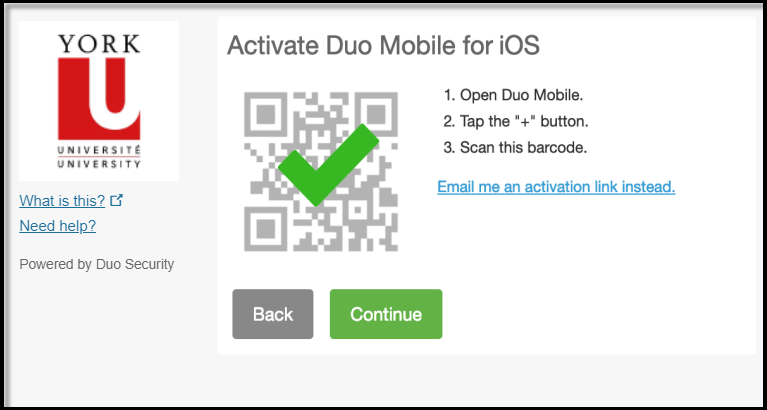 Then, click on Back to Login.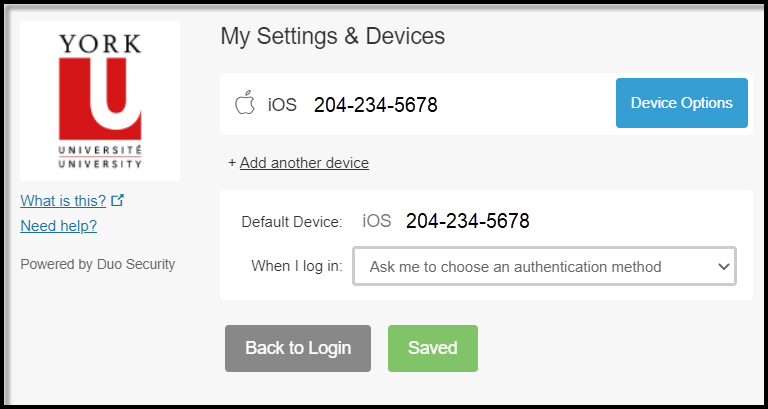 Step 8: Congratulations!
Your device is ready to approve Duo push authentication requests.
** You can enable the "Remember me for 30 days" setting to reduce how often 2FA is required. The "Remember me" should only be used with a device you own or that is assigned only to you. Never use the feature on public or shared devices.**
Click Send me a Push to give it a try. All you need to do is tap Approve on the Duo login request received at your phone.
If you have been assigned a Duo hardware token, click Enter a Passcode, press the green button on your Duo token, enter the passcode and click Log In.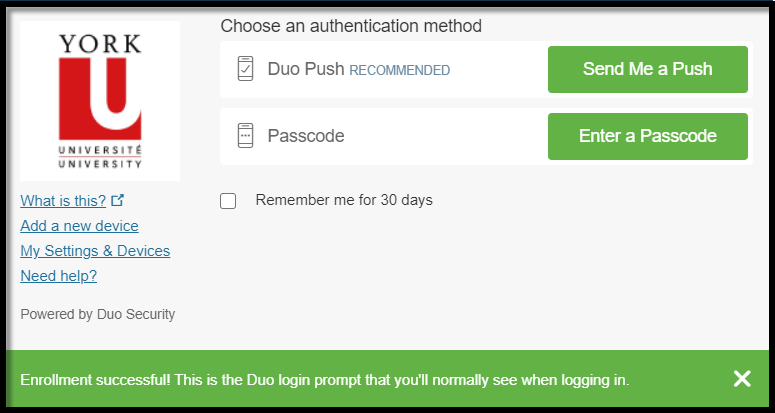 If you need assistance or experience login problems after 2FA is enabled, please contact askit@yorku.ca or x55800.